Live Music at The Jazz Room
Featuring International jazz acts that play the world's top clubs (the Saturday program features artistic direction from Mark Kelso). For the latest news and & promotions, click here.
Please note that only Grand River Jazz Society events are shown below
If you cannot see the calendar below, try our alternate calendar page or update your web browser.

May
24
Wed
2017
Big Band Theory – Special Event!!
May 24 @ 8:30 pm – 11:30 pm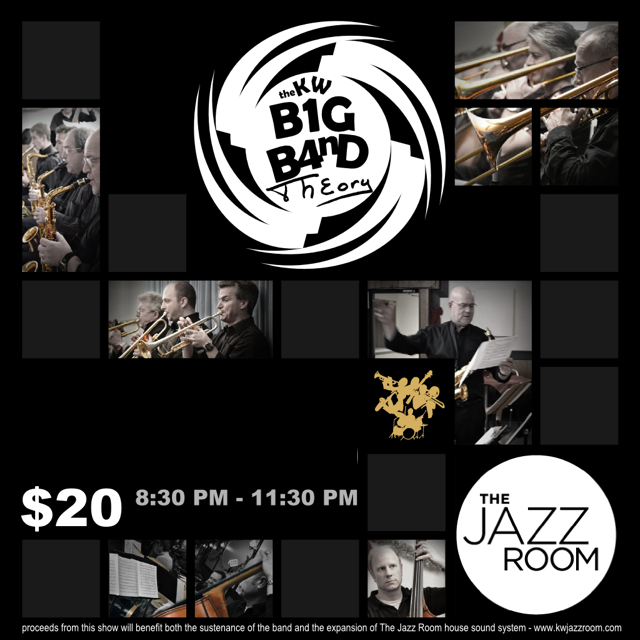 This is a last minute booking but we are making the show free to passholders!!
The Big Band Theory had its genesis in Kitchener-Waterloo, Ontario, without any clear idea where this project might end up. And… WOW! what an explosion of sound when seventeen of Kitchener-Waterloo's (and beyond) most talented jazzers showed up for that first rehearsal in October 2011.
The band's music ranges from the danceable swing music of Benny Goodman's orchestra and Sammy Nestico to Jazz Rock of the 1970s right up to the extraordinary contemporary sound of the Big Phat Band of L.A. The Big Band Theory is an exciting band to listen to and hear live.
Music Director – Robin Habermehl
Vocals – Robin Habermehl
 Reeds
Ken Hadley Flute, soprano & alto sax
Mark Laver Soprano & alto sax
Robin Habermehl soprano, alto & tenor sax, vocals
Ryan Cassidy Tenor sax
Taylor Ellingham Baritone sax
Tim Moher Alto sax
 Brass
Bruce Gordon Trumpet
Chris Alcantara Trumpet
Kevin Kalbfleisch Trumpet
Randy Brown Trumpet
Rob Gellner Trumpet
Paul Ellingham Bass Trombone
Robin Jessome Trombone
Ron Schirm Trombone
Steve Hagedorn Trombone
 Rhythm
Andriy Tykhonov Piano
Andy Macpherson Drums
Greg Prior Bass
Stephen Zurakowsky Guitar
Can we fit them all on the stage? Yes we can!!
BBT plays "The Count is In"
Jun
1
Thu
2017
Jaymz Bee's One Stop Vocal Jazz Safari

@ The Jazz Room
Jun 1 @ 6:00 pm – 10:00 pm
JAZZ.FM91 presents The One Stop Vocal Jazz Safari
24 Stellar Vocalists in One Show!
Produced and hosted by Jaymz Bee
Musical Director John Sherwood (piano) with Mark Kelso (drums), George Koller (bass) and Eric St-Laurent (drums)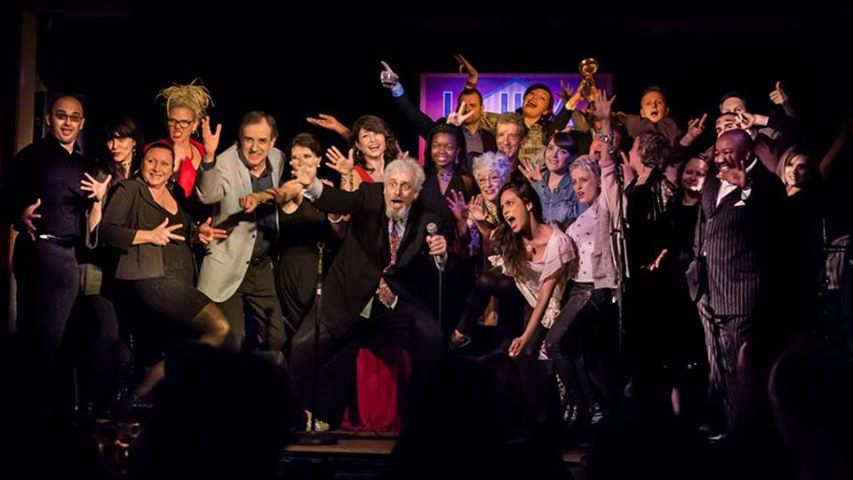 24 vocalist in a three hour showcase!
Featuring June Garber, Genevieve Marentette, Jay Douglas, Joni Nehrita, Denielle Bassels and many many more!
Dinner at 6, show at 7.
This show is only available to donors of JAZZ.FM91.
Donate $250 for one, $500 for two or get a $1,000 tax receipt and reserve a table of four.
A full tax receipt for your donation – this concert is a thank you gift for supporting Jazz & The Arts.
For more information visit www.jazz.fm or donate now at 1-800-811-2400