When:
May 6, 2017 @ 8:30 pm – 11:30 pm
2017-05-06T20:30:00-09:00
2017-05-06T23:30:00-09:00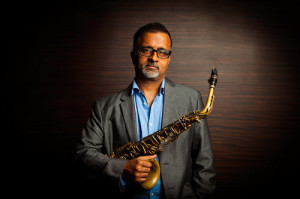 Avataar is lead by saxophonist/flutist/composer Sundar Viswanathan.  He marries modern jazz, Classical Indian music, Brazilian lyricism, atmospheric textures and ambiance, Javanese gamelan, and contemporary improvisation.
Avataar's music has drawn comparison to Mahavishnu Orchestra, Keith Jarrett with Jan Garbarek, late Coltrane, and Oregon. The resulting confluence is a mesmerizing blend of rhythmic hypnotism, sonic landscapes and soaring melody that marries ancient and modern musical sounds. Cleverly layered and cinematic in scope, the music drives and swirls through a vast sonic palette. The concepts of impermanence and universal consciousness feature in many of the compositions, as do first-rate musical interpretations and improvisations highlighting guitar, saxophone and vocals.
Saxophone/flute/composer  – Sundar Viswanathan,
Vocalist – Felicity Williams (Bahamas, Hobson's Choice),
Tabla -  Ravi Naimpally (Tasa)
Guitar -  Michael Occhipinti (Sicilian Jazz Project, Don Byron, Bruce Cockburn)
Bass – Justin Gray (Monsoon, David Liebman, Subanker Banarjee)
Drums – Giampaolo Scatozza (Paul Young, Tom Jones )
Here is Avataar with "Monsoon"