When:
April 8, 2017 @ 8:30 pm – 11:30 pm
2017-04-08T20:30:00-09:00
2017-04-08T23:30:00-09:00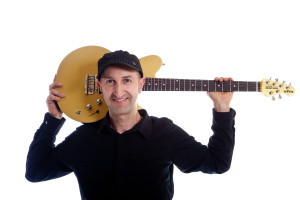 Michael Occhipinti is a versatile, sound-scultping guitarist and composer/arranger, who has spent decades freely moving between jazz, chamber music, world music, r&b/funk, and anything involving modern guitar sounds.  A nine-time JUNO Award nominee, Michael leads several acclaimed groups including The Sicilian Project, Shine On: The Universe of John Lennon,  The Triodes, and the 16-piece group NOJO (Neufeld-Occhipinti Jazz Orchestra).  Michael's newest group IN ORBIT, is now booking dates for summer 2017 and features Jeff Coffin (Dave Matthews Band) on saxophone, and Felix Pastorius on bass.  Michael's creative guitar playing has made him the ideal compliment to a diverse range of groups,  including modern jazz singer Elizabeth Shepherd, Indian fusion group Avataar, classical ensemble Group of 27, Psychedelic Turkish group Minor Empire, pop and soul singer Lester McLean, improvising electronic group Junik, and chamber group The Gryphon Trio.  He's as happy playing clean rhythm guitar with his funk band Grooveyard as he is creating stunning ambient sounds behind vocalists such as Italy's Pilar.  The range of Michael's musical experience is best illustrated in the many celebrated musicians Michael has performed with, including  Tony Allen, Andrea Bocelli,  The Cecilia String Quartet, Divine Brown, Don Byron, Bruce Cockburn, Jeff Coffin, Joe Lovano, The Toronto Symphony, Dominic Mancuso, Laila Biali, Ray Anderson, Dave Douglas, Michelle Willis, Sam Rivers, and Kenny Wheeler.  Michael Occhipinti's touring resume includes The Umbria Jazz Festival (Italy), the Festival Cultural de Zacatecas (Mexico), the Jazz Yatra (India), The Ubuntu Project (Netherlands), Musikfest (USA), and the Ottawa Chamber Music Festival (Canada).
Michael Occhipinti's JUNO nominated album Creation Dream: The Songs of Bruce Cockburn, was a hugely celebrated instrumental album that interpreted the songs of Bruce Cockburn.  Now, Michael Occhipinti has updated that repertoire by teaming up with vocalist/pianist Elizabeth Shepherd, herself a recipient of multiple JUNO nominations.  The two have toured this repertoire extensively, incorporating songs by other Canadian artists also,
and the result is a magical collaboration by two of Canada's most acclaimed jazz artists, solidly accompanied by the dynamic rhythm section of drummer Davide Direnzo and bassist Roberto Occhipinti.
This will be a very special show with two of Canada's most creative musicians.
Michael and Elizabeth with Bruce Cockburn's "Pacing the Cage".  That's Bruce's longtime manager – Bernie Finkelstein – sitting to the left……
Michael Occhipinti – Guitars
Elizabeth Sheppard – Piano,Vocals
Davide Direnzo -Drums
Roberto Occhipinti -Bass