When:
June 9, 2017 @ 8:30 pm – 11:30 pm
2017-06-09T20:30:00-09:00
2017-06-09T23:30:00-09:00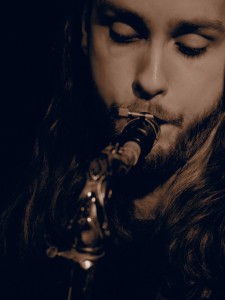 Local multi instrumentalist Ryan Cassidy  grew up with  the tutelage of Robin Habermehl  as well as music staff at Forest Heights Collegiate. Ryan developed his skills to become one of the area's top young jazz musicians. He continued his formal training through the Applied Music program at Mohawk College, immersed in the musical theory and practice that would support his growth as a musical practitioner, composer and arranger.
Ryan's musical influences are broad, from the powerful and expressive style of such saxophonists as Dexter Gordon and Sonny Rollins, to the rock guitar sound of Eddie Van Halen. His personal jazz style is touched by his lifelong fascination with a broad range of musical genres, including soul, funk, R&B and rock.
He's played with and learned from such notable musicians as Don Thompson, Tom Scott, Adrean Farrugia, Darcy Hepner and Pat Collins.
Currently, Ryan plays lead tenor with KW Big Band Theory and lends his sax and flute stylings to the Dan Howler Band, an "eclectic band with a rock'n roll soul."
Joining Ryan for this outstanding show will be:
Ryan Cassidy – Saxophone
Jason White – Piano
Donnie McDougall – Drums
Matt Lima – Bass