When:
September 23, 2017 @ 8:30 pm – 11:30 pm
2017-09-23T20:30:00-09:00
2017-09-23T23:30:00-09:00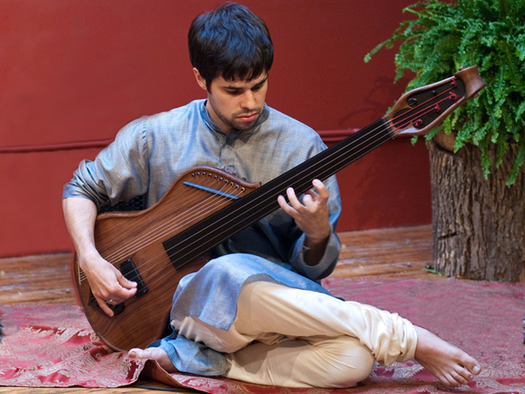 Justin Gray is an award winning bassist, composer, producer, and educator based out of Toronto, Canada. He has performed across the world, playing with renowned artists in musical styles ranging from Jazz to Indian Classical. In 2010, Justin invented the Bass Veena, a fretless instrument designed for Indian Classical and Indo-Jazz performance. Justin is now emerging as the first artist to perform on this instrument worldwide. Justin currently leads his own jazz/world music ensemble Synthesis. This contemporary ensemble draws from the past, while remaining connected to the present, with a unique cross-cultural blend of Jazz, Indian classical and electronic music.
Justin Gray and Synthesis have recently been featured in concerts across Ontario, including: Dundas Square (Massey Hall 2016), Toronto Centre for the Performing Arts (JPEC 2016), The Aga Khan Museum (AKM 2016), Richard Bradshaw Theatre (Canadian Opera Company 2015) and Princess Margaret Hospital (Jazz for the Soul Series 2016). The ensemble is currently recording a new album, which will be released in the spring of 2017.
Justin Gray – Bass Veda
Ted Quinlan -Guitar
Drew Jurecka -Violin
Derek Gray – Percussion
Here is Synthesis with "Offering"